This page is intended to be a source of information for agricultural producers and management professionals on how to make their operations more resilient to the impacts of extreme weather and climate events. Our Team is dedicated to providing you with real stories from real producers in our region.
This information is available as regularly updated blogs, videos, podcasts, and public service announcements.
To be added to our stakeholder email list or for questions please send an email to the Hub Coordinator Susan Eisenhour at susan.eisenhour@usda.gov.
Sharing information on strategies to help agriculture and rural communities to deal with climate change and other natural resource challenges.
This past week, the USDA Southern Plains Climate Hub had a booth at the 3I farm show in Dodge City, Kansas. I was there with my Daughter Madeleine manning the booth (say Hi Maddy).
            Madeleine assisting at the USDA Climate Southern Plains Climate Hub booth
Because of this, I'm taking a little different approach to the blog this week and highlighting a few climate smart/soil health/conservation type articles that I have come across this week during breaks at the booth.
First, if you live in the southern plains (or follow this blog), you know how dry it has been in Kansas, Oklahoma, and Texas.  With dry weather, exposed soil, and high winds, you have the recipe for dust in the air. It's important that producers understand what they can do to control erosion and hold their soil in place.  This is the situation described in a news story from Lubbock, Texas, titled 'West Texas farmers use cover crops, clodding to fight soil erosion.'  It's a great piece about how good land treatment practices can help address this serious natural resource issue.
Next is an article describing an initiative by USDA, the Farmers For Soil Health Initiative, NCGA, the United Soybean Board, The National Pork Board, and the U.S. Fish and Wildlife utilizing $95 million from the USDA Partnership for Climate Smart Commodities program to increase cover crop usage and develop new markets for conservation minded-producers.   My favorite quote from the article comes from Indiana farmer J.R. Roesner, chair of the Ethanol Action Team for the National Corn Growers Association.  He says that USDA is helping farmers to advance soil health practices. "And, reach the needs of our consumers, generate some extra revenue, and have the freedom to farm like we've had in the past."
Finally, most producers in parts of Oklahoma normally spend the first part of March pulling cattle off winter wheat pasture. Harvest (if you have wheat to cut—thanks to drought) will be coming later in the spring-early summer.  After that, folks who use soil health practices will be planting summer cover crops, many acres of which (if we get moisture and a good stand) will be grazed.   
With that in mind, I searched for information on grazing summer cover crops following winter wheat.  What I found first was an interesting video from Kansas State University featuring Research Extension beef cattle specialist Sandy Johnson discussing grazing cattle on cover crops in western Kansas, an area where some folks feel cover crops won't work because of lower average annual rainfall.
In the video, Johnson explains how in studies conducted with cooperating farmers and on research plots, K-State researchers have found that grazing covers in Western Kansas can be an option for producers.
"There are challenges, but these are all manageable," she said. "If you're interested in incorporating cover crops to get some soil health benefits and improve water infiltration, I think that can still be compatible with livestock use in western Kansas. We always have to balance that trade-off between our crop goals and livestock goals, but many people are making it happen, and you can, too."  You can also check out a fact sheet Kansas State put out on grazing cover crops here.
Enjoy your week, and if you made it to the 3I show, we hope you came by and said Hi!
March 22, 2023
I've seen a lot of interesting, producer focused stories this week from varied sources about how researchers and agriculture producers are pursuing climate smart agriculture (or soil health or sustainable agriculture or whatever—pick your term of art) and what they are learning.  One theme seems to run through all of these stories—one size does not fit all when it comes to trying to make changes that help agriculture adapt to our changing climate.
In one story Roy Pfaltzgraff, a farmer and rancher from North East Colorado talked about how each farm is different and how each producer has a different reality.  He said that, in his opinion, cookie-cutter approaches don't work; neither does a hide-bound allegiance to one set of specific practices or another.
"You can't do what I've done on my operation to get success, and I can't copy you likewise, but we can learn individual lessons from each other. I do believe in a living root, but I don't believe in cover crops as a religion." Pfaltzgraff said.
In a similar vein, an article that I came across just today  told the story of Loran Steinlage, an West Union Iowa agriculture producer and 2020 No-Till Innovator Award Recipient, who drastically  changed his operation and mindset when his son Roland nearly died 15 years ago from brain cancer.  Flexibility, experimentation and a willingness to share what he had learned with others have become hallmarks of his approach to agriculture.
In the story he is quoted as saying "I don't have a clue what our actual rotation is this year yet," Steinlage says in early February. "It's going to flex as we see spring unfold. We're constantly adjusting."
What all this says to me is that we have to realize that a "you do 'x' and 'y' will result" approach to farming and ranching really doesn't apply when it comes to trying to adapt agriculture operations to climate change.  What works on my place may not work on yours (and vice-versa).  I wrote about how climate smart agriculture can mean many things to many people in an earlier blog. There are many options you can look at.  The trick is that you give it some thought and understand that there is no one answer that works everywhere.
USDA has a breakdown of some of their recommended approaches to climate smart agriculture here. There also is some good information on the overall approach USDA is taking to climate change adaptation here and you can go to the USDA Agriculture Research Service website to check out what research USDA has going on in the area of extreme weather resiliency.
Weather in this part of the world has always been extremely variable.  Will Rogers once said "If you don't like the weather in Oklahoma, wait a minute."  This is true now more than ever with the vagaries of a changing climate.   Adaptation requires flexibility and a little willingness for trial and error.  It also requires an understanding that everyone is not in the same place, geographically, socially or financially.   Don't get caught up in dogma when it comes to preparing your farm and ranch to the challenges of climate change.  Remember that help is available from your local USDA Service Center   and more information is available from their partners like cooperative extension.
President Franklin Roosevelt once said "It is common sense to take a method and try it. If it fails, admit it frankly and try another. But above all, try something."   I think the same holds true for climate smart agriculture.
March 14, 2023
The drought keeps hanging on, especially in Kansas, and just how many winter tornadoes did Oklahoma have?
From drought to tornadoes, it seems like we are having it all in the Southern Plains. Let's start by taking a look at the latest drought monitor.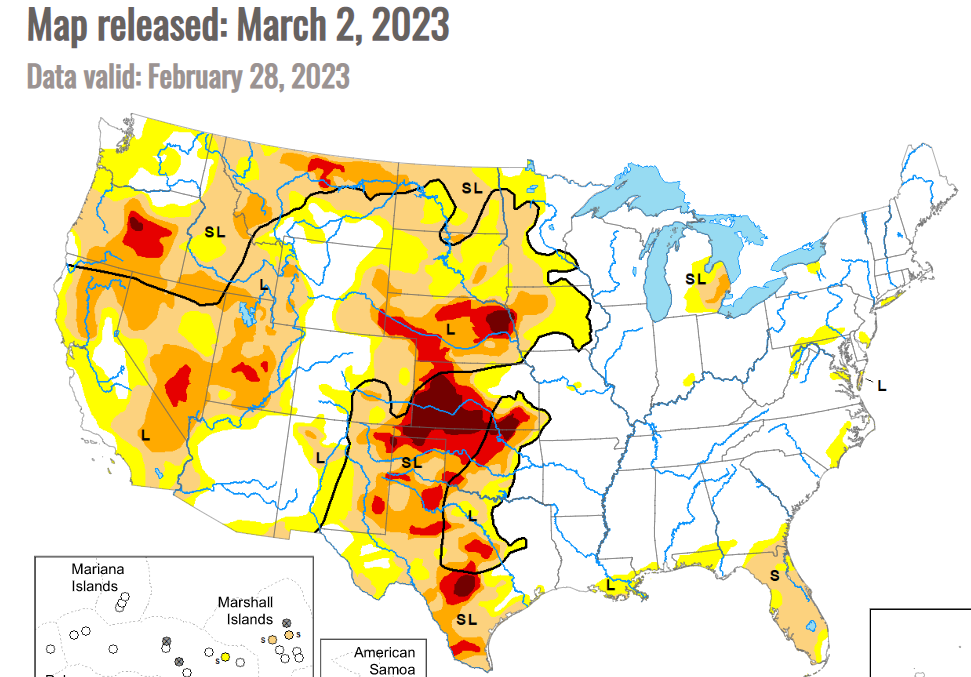 Just look at all the brown up in Kansas, which, if you don't already know, means "exceptional drought." I know we are dry here where I am located at in Oklahoma, and its sure isn't wet in Texas, but just how bad is it in Kansas?  Well, lets take a look (if you're from Western or Southern Kansas, you might want to divert your eyes).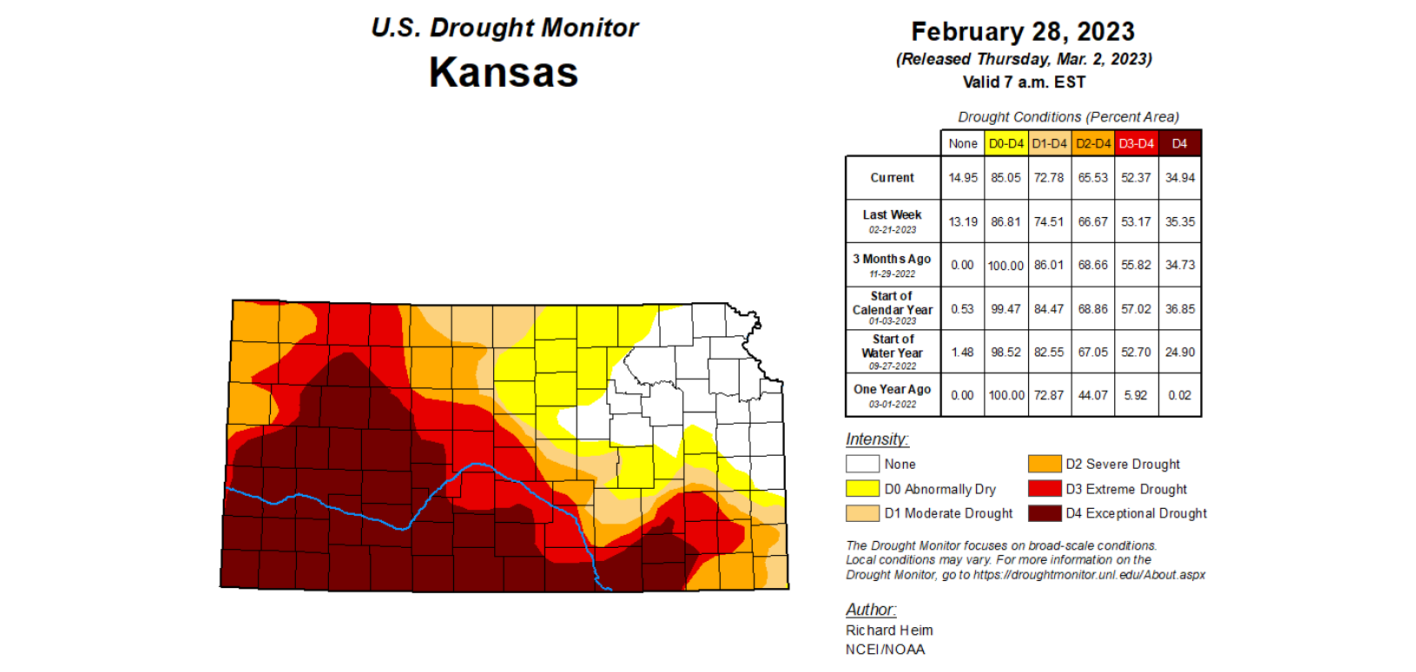 That's not good.
As of this writing, the forecast is calling for some snow later this week in a lot of the "Exceptional Drought" areas, but it is going to take a lot of precipitation to turn this situation around.
To put this in perspective, consider the effect this dry weather is having on Kansas agriculture. As of Sunday, February 26,  USDA rated winter wheat in Kansas as 19% good or excellent, down from 21% a month earlier and at the end of November and down from 25% a year ago. Some 51% were in poor or very poor condition, up from 38% a year ago.
The rest of the region isn't doing well either—USDA said winter wheat in Oklahoma is at 36% good or excellent versus 17% a month ago, 31% in November, and 11% a year ago. Texas wheat rated good or excellent is 19% versus 14% last month, 21% in November, and 8% last year. Additionally, Oklahoma and Texas wheat rated poor or very poor at 41% and 49%, respectively.
Needless to say, things are still looking rough, drought wise.
Now, about those tornadoes…
According to our partners at the Oklahoma MESONET  (and if you haven't subscribed to the MESONET Ticker you should-it's great information, entertaining and its free), Oklahoma had at least 10 tornadoes in February. That breaks the previous record of six sets in 1975 and 2009. 
That sounds like a lot…
Then consider that Oklahoma also had a record five tornadoes in January AND a record eight tornadoes in December. That's three straight months with a record number of tornadoes. Throw in six tornadoes in November (a month that usually averages 1.6 ), adding up to a record twenty three tornadoes during this winter season.
For comparisons sake, the previous recorded record was seven.
That's right, seven.
Do we have to worry about what is in store when we hit what is traditionally the REALLY active time for severe weather in the Southern Plains which actually runs from late March through early June? 
Who knows?
After all, with this crazy weather, things are hard to pin down. Many of the old signposts seem to be turned around. Just look at this issue of the MESONET ticker  from last week to understand how we can go from really warm weather to snow if just a few days (if not hours). 
All this speaks to why we need to be prepared for anything when it comes to wild weather in the Southern Plains. Whether it's fire, snow, floods, droughts, tornadoes, or hurricanes, the region gets hit with them all (sometimes it seems like it's all in the same week). Producers should check with their local USDA Service Center to make sure they know what their options are, from adaptation strategies to risk management, because the crazy weather seems to keep on coming. 
March 6, 2023
March 1, 2023
February 21, 2023 
February 15, 2023
February 8, 2023
January 30, 2023
January 23, 2023
---
In this special episode of the podcast, we visit with Matthew Sittel, the Assistant State Climatologist for the State of Kansas about the ongoing drought, current weather conditions, and what the outlook shows moving forward through the spring and summer. (Recorded March 23, 2023)
In this episode of the podcast, we visit with Dr. Kevin Wagner, head of the Water Resources Center at Oklahoma State University about their research work with virtual fencing systems and how these systems could help producers and assist in natural resource work. (Recorded March 9, 2023)
In this episode of the podcast, we again visit with Victor Murphy with the National Weather Service in Ft. Worth, Texas about the current weather conditions in the region and what the outlook shows over the next few weeks and months.
In our latest podcast episode, we visit with Adam York, Sustainability Director for the National Sorghum Producers, about their new climate-smart commodities initiative with USDA and how grain sorghum can be part of how producers deal with extreme weather challenges. (Recorded February 13, 2023) 
The Ogallala Aquifer has a huge impact on agriculture and communities throughout the western portion of the Great Plains.  In this episode of the podcast, we visit with Dr. Jean Steiner, Adjunct Professor at Kansas State University and Science Coordinator with the Sustainable Southwest Beef Project about some of the challenges facing the Aquifer in Kansas as well as some of the ways that producers can help extend the life of this critical resource. (Recorded January 25, 2023)
In this special episode of the podcast, we again visit with Victor Murphy from the National Weather Service in Fort Worth, Texas about the latest weather conditions in Oklahoma and Texas and what the outlook is like moving forward through January and on into spring. (Recorded January 10, 2023)
In this last episode of 2022, we visit with Julian Reyes, the National Coordinator of the USDA Climate Hub Network in Washington, D.C. Julian talks to us about the History of the Hubs, the work they do, and what some of the initiatives in store for 2023. (Recorded December 30, 2022)
In this special episode of the podcast, we visit with Matthew Sittel, Assistant State Climatologist in Kansas.   Mr. Sittel talks to us about the Kansas Mesonet system, the current drought impacting his state, and what the weather forecast looks like for Kansas moving forward over the next few weeks and months. (Recorded December 20, 2022)
In this episode of the podcast, we visit with Amanda Mathis, the Acting State Conservationist for NRCS in Oklahoma.   Amanda talks to us about her work for NRCS both as acting State Conservationist in Oklahoma and as the Assistant Conservationist for Partners in Arkansas and about some of the current initiatives at NRCS including the ongoing work to help producers through the drought and the upcoming push for Climate Smart Conservation practices funded by the Inflation Reduction Act. (Recorded November 30, 2022)

---
In this latest video in our ongoing "Voices from the drought" series we visit with Daryl Donohue from South East Kansas about the impact the drougth is having on his operation and how some of the practices he has implemented on his land have helped deal with the dry conditions. (Recorded January 22, 2023)
In this latest video in our ongoing "Voices from the drought" series we visit with Michael Thompson from Almena, Kansas. Mr. Thompson talks to us about the impact the drought has had on his operation this year, his plans moving forward over the winter and spring and how soil health practices have helped him better weather the dry conditions. (Recorded January 4, 2023).
This is the first in our series of videos highlighting the impact of the ongoing drought on farmers and ranchers in the Southern Plains region of the United States. In this video we visit with Laura Gay Burdick, a rancher from Palo Pinto County Texas and the Chair of her local Soil and Water Conservation District Board about the impact the drought is having on her operation. (Recorded October 6, 2022).
This is the second video in our series "Voices from the Drought." In this short video we visit with Matt Muller, a cotton, wheat and grain sorghum producer from Southwest Oklahoma about the impact the drought is having on his operation this year and how some of his practices are helping him cope. (Recorded October 20, 2022)
---
Public Service Announcements (PSA)
The Southern Plains Climate Hub, in partnership with Redlands Community College and USDA NRCS, is promoting soil health as a tool for climate change adaptation and to help producers adapt to extreme weather events. As part of this promotional effort, the Hub is developing a series of Public Service Announcements (PSAs) featuring producers from across the Southern Plains speaking on the benefits of soil health management. 
Kenneth McAlister grows cotton, corn, milo, canola, wheat, sesame, peanuts and soybeans near the Red River in Wichita County Texas.  He has been no-tilling his land since 2005 and has been utilizing cover crops for the last 4 years.
http://traffic.libsyn.com/southernplainspodcast/Kenneth_McAlester_Texas_Soil_Health_PSA.m4a
Scott Carpenter is a conservation district director and wheat producer from Nocona, Texas.  He utilizes cover crops and no-till on his land to hold on to more water and reduce erosion on his land.
http://traffic.libsyn.com/southernplainspodcast/Scott_Carpenter_Texas_Soil_Health_PSA.m4a
A cotton, peanut, corn and wheat producer from Morton Texas, Glen Lyon rotates crops on his 7,500 acre farm to reduce erosion and increase the water holding capacity of the soil.
http://traffic.libsyn.com/southernplainspodcast/Glen_Lyon_Texas_Soil_Health_PSA.m4a
A Farmer and Rancher from Norton, Kansas, Rusty Miller understands the importance of controlling erosion and increasing soil moisture.  Rusty incorporates cover crops and grazing into his cropping systems to help increase the health of his soil and improve his bottom line by reducing fuel costs and increasing fertilizer efficiency.
http://traffic.libsyn.com/southernplainspodcast/Rusty_Miller_PSA-Ks.m4a
Michael Thompson is a farmer/rancher from Almena, KS. Michael along with his father Richard and his brother Brian operate Thompson Farm & Ranch LLC. The farm is comprised of acreage in Norton County, KS, and Furnas County, NE, and grows wheat, corn, oats, barley, as well as cover crop cocktails. The ranch consists of a cow/calf operation that grazes on native range and diverse cover crops on farmland acres. 
http://traffic.libsyn.com/southernplainspodcast/Michael_Thompson_PSA-KS.m4a
Lance Feikert is the fifth generation farmer and rancher from Bucklin, Kansas. He raises wheat, milo and soybeans on dryland and irrigated acres. He also utilizes cattle in his operation to better utilize crops and encourage better soil health.With less water available to pump each year, many of his irrigated fields are becoming more like their dryland counterparts. No-till helps him make the most of limited resources. Lance says no-till practices improve the microbial community under the soil and helps increase water infiltration.
http://traffic.libsyn.com/southernplainspodcast/Lance_Fiekert_PSA-KS.m4a
Steve Pope is a 6th generation Western Oklahoma farmer and rancher.  He has been no-tilling for over 13 years and incorporates cover crops and grazing into his cropping systems.  Steve participates in USDA conservation programs such as the Environmental Quality Incentives program (EQIP) and the Conservation Stewardship Program (CSP)
http://traffic.libsyn.com/southernplainspodcast/Steve_Pope_Soil_Health_PSA.m4a
Jimmy Emmons is a life-long farmer and ranchers from Leedey, Oklahoma.  A local conservation district board member and a past President of the Oklahoma Association of Conservation Districts (OACD), Jimmy knows the importance of conserving our soil, water, air and wildlife habitats while working to protect the bottom lines of agriculture producers.
http://traffic.libsyn.com/southernplainspodcast/Jimmy_Emmons_PSA.m4a
Grant Victor is a Northeast Oklahoma agriculture producer and the winner of the 2016 Outstanding Landowner Award from the Oklahoma Association of Conservation Districts and the Nature Conservancy of Oklahoma.   A life-long resident of Afton, Oklahoma, Grant uses soil health practices to improve productivity on his land while controlling run-off and soil erosion.
http://traffic.libsyn.com/southernplainspodcast/Grant_Victor_PSA.m4a