When planting trees after a wildland fire or timber harvest (reforestation) or on land that did not previously have trees (afforestation), it is important to plant the right seed or seedling in the right place. The right seed or seedling will become a tree that is suited to survive, grow, and reproduce in the current and future climate. The Seedlot Selection Tool helps foresters, landowners, and land managers to consider climate change when planning reforestation and afforestation projects. This online tool maps climate variables that are important to tree growth, reproduction, and survival. Forest landowners and natural resource managers can use this tool to explore options for responding to climate change by determining where seeds or seedlings can be sourced so that they are suited to current and future climates.
The Seedlot Selection Tool matches seedlots (seedlings from a known area) and planting sites by mapping climate variables such as temperature and precipitation within a range that is suitable to the tree. The Seedlot Selection Tool has an automatic option to choose climate variables important to tree growth and survival. The tool also has options to choose climate variables and apply different constraints based on the user's local knowledge of the planting site, plant material, management goals, climate change assumptions, and risk tolerance.
The Seedlot Selection Tool maps climate variables for the continental United States plus Alaska, Canada, and Mexico. To improve computing time, North America is viewed by sections: Alaska and western Canada, western U.S., northwest Canada, eastern U.S., southwestern U.S. and Mexico, and eastern U.S. The Seedlot Selection Tool is also available in Spanish. (Herramienta de selección de lotes de semillas está también disponible en español.)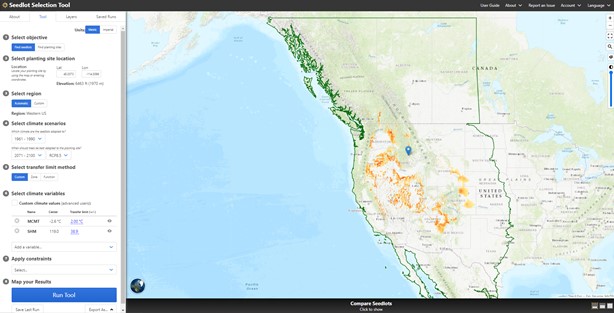 Image: Screenshot of the Seedlot Selection Tool noting a planting site in Idaho (blue marker) and areas that match the climate the seedlots are adapted to, as indicated by orange colors (with darker orange indicating a closer match) in the western U.S (green outline).