Welcome to the USDA Climate Hubs! In summer 2023, we made changes to the website. This guide will help you navigate our website and find the information you want.
What's new?
The International Climate Hub was added in May 2023

'Priorities' is a new dropdown menu

'Climate Impacts' dropdown menu was removed and items under it are now included under 'Topics'
How to navigate
When you enter our homepage, you can see two horizontal bars at the very top. The top white bar provides national content to learn more about us or contact us. The blue bar has dropdown menus: 'HUBS' direct you to each of the 11 Climate Hubs, 'PRIORITIES', 'TOPICS', and 'ACTIONS & RESOURCES' show content from all 11 Climate Hubs. If you choose a regional Climate Hub, then a grey bar will appear. Items in the grey bar are specific to that Hub region. Each Hub can choose up to three additional items to highlight in the grey bar (noted by Options 1-3).
Example:

Priorities is a new dropdown menu in the national banner that elevates regional content to the national level. Priorities were identified by the USDA Climate Action Plan and the Climate Hub executive committee. There are articles for each priority from across the Climate Hubs.
Topics is a dropdown menu with a collection of articles that summarizes information on climate change. Articles provide background information for the topics listed below.
Actions & Resources articles provides information on management actions that can be taken, and the resources needed to inform those actions. You can find information on vulnerability assessments, adaptation plans, demonstrations of management actions, and tools and resources to support decision making.
Home Page
The Climate Hub landing page has several Featured articles to explore. At the top of the page is the main featured article plus three panels below it. These articles highlight relevant information from a national perspective. Next is a list of Upcoming Events hosted by the Climate Hubs. Click 'View Complete Calendar' to see additional events and the full calendar. At the bottom of the page, Recent Additions show the most recently published content. The grey box notes the regional Climate Hub the content is most relevant to. You can view all recent articles by clicking on 'View All' at bottom of this section.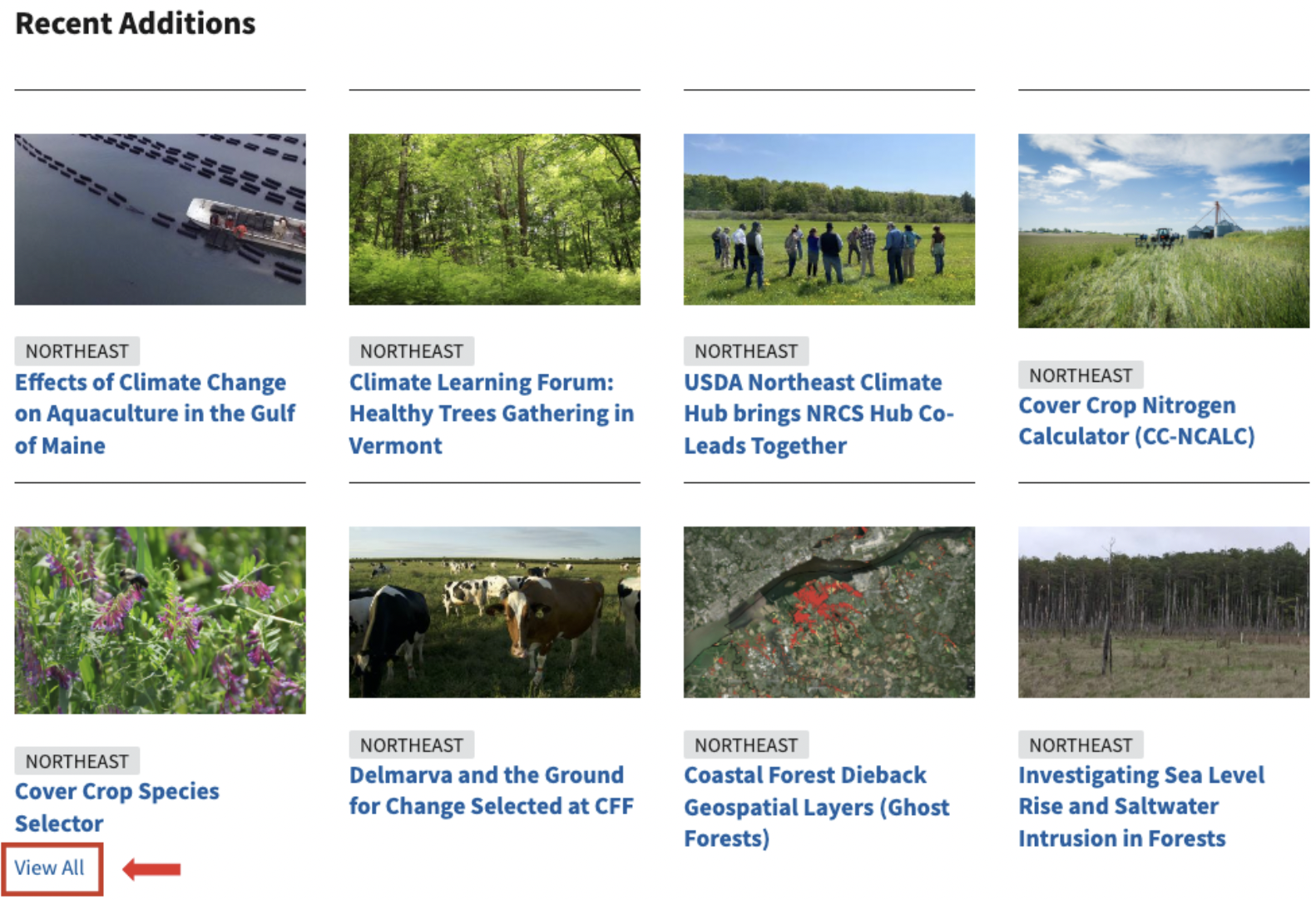 ---
Footer
Links at the bottom of the page connect to national level information. You can find national quarterly reports at the bottom of the list under Newsletter.