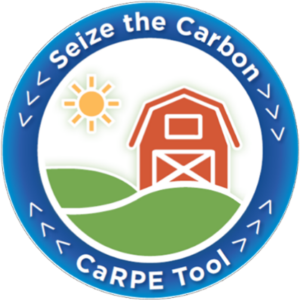 The Carbon Reduction Potential Evaluation Tool, or CaRPE Tool, is a web-based interactive tool that allows users in the 48 conterminous states to quickly visualize and estimate the climate benefits of implementing a variety of conservation practices on croplands and grazing lands.
The CaRPE tool builds on the data of the 2020 version of the COMET-Planner by layering cropland and grazing land acres data from the 2017 Census of Agriculture with county/multi-county carbon sequestration and greenhouse gas (GHG) emission reduction coefficients associated with the adoption of climate-smart agricultural management practices. The tool allows users to quickly compare practices, estimated costs, and where the greatest GHG impact can be achieved across county, state, regional, and national scales.
The CaRPE tool can help policymakers, conservation and agriculture professionals, and others improve efforts for cost-effective climate benefits from climate-smart practice adoption in targeted areas and systems.
What can users do with the CaRPE Tool?
Map current acres and percent of cover crops and conservation tillage at the county scale

Estimate (and map) GHG reduction potential from current adoption levels

Run scenarios for future GHG benefits from implementing practices on additional acres

Estimate implementation cost using national average EQIP rates or user-defined costs

Generate maps and tabular data summarized for each scenario and scaled to county, state, regional, Farm Resource Region, or national levels
Recent updates to CaRPE allow users to:
View data by Farm Resource Region (in addition to counties and states)

See and map the weighted emission reduction coefficient for each scenario

Choose among four Conservation Practice Classes

More easily use the slider bars when developing scenarios

Specify their state's estimated costs of implementation or use the national averages

Automatically see data aggregated by region and/or state

Consult the updated user guide on the CaRPE website
Who is the tool designed for?
State policymakers, Soil and Water Conservation District planners, state and federal conservation agencies, non-governmental organizations, and other conservationists interested in optimizing climate benefits through climate-smart practices.
The CaRPE Tool was developed by USDA-ARS soil scientists Dr. Jennifer Moore and Dr. Daniel Manter. It was funded in part by The Nature Conservancy, The Ida and Robert Gordon Family Foundation, and American Farmland Trust.
Additional Information
"CaRPE: the Carbon Reduction Potential Evaluation tool for building climate mitigation scenarios on US agricultural lands" is a publication about CaRPE and its uses.
"A framework to estimate climate mitigation potential for US cropland using publicly available data" is a publication applying results from CaRPE use.
---
This webpage was adapted from an American Farmland Trust webpage.