This webinar will share findings from a recently completed report that is soon to be published, Vulnerability of Alaska Native Tribes in Prince William Sound and adjoining Kenai Peninsula to selected climate and non-climate stressors by John M. Morton, Erin Shew, Willow Hetrick, and Allison Carl.

Join this webinar on MS Teams on 19 April at 1:30 – 3:00 pm AKST.
Paper Abstract
We assess the vulnerability of seven Alaska Native Tribes in Prince William Sound (Chenega, Cordova, Qutekcak (Seward), Tatitlek, Valdez) and the adjoining Kenai Peninsula (Nanwalek, Port Graham) to key climate and non-climate stressors. This report supplements the interagency Climate Change Vulnerability Assessment for the Chugach National Forest and the Kenai Peninsula published in 2017. Over the next 50 years, all communities are generally expected to warm with decreasing snowpack along the coast where these villages are located.  However, at a finer scale, neither climate change nor natural resource distribution are uniform among communities. Tribal community members remain very dependent on wild resources, harvesting about 122 kg of food for subsistence purposes per person annually, composed of 43 percent salmon, 25 percent non-salmon fish, 12 percent marine mammals, 11 percent land mammals, 5 percent marine invertebrates, 3 percent vegetation, and 1 percent birds and eggs, in total representing more than 140 species. In addition to contributing to food security, wild resources provide economic opportunities in communities where they are often limited through commercial hunting and fishing operations, the generation of tourism, and the sale of arts and crafts.  Wild resources are also an important cultural and spiritual component of Alaska Native communities, with access to these foods contributing to physical and mental well-being. Pink salmon, eulachon, harbor seal, Sitka black-tailed deer, razor clam, blueberry, and American black oystercatcher were selected for assessment to represent each of the seven resource categories of subsistence harvest, respectively. Although only harbor seals and razor clams populations are decreasing currently in the assessment area, all but deer will likely decrease in the foreseeable future. Rather than trying to directly address vulnerabilities, many of which are either unmanageable (e.g., ocean currents) or unpredictable (e.g., oil spill), we suggest the importance of focusing on resilience in traditional resources by developing both community-grown foods through agriculture, agroforestry, mariculture or kelp farming, as well as enhancing local natural resources through habitat management and monitoring. We identify several considerations for building resilience through more collaborative resource management, building on the skills and knowledge of Alaska Native hunters who have studied, observed, and stewarded these lands and waters since time immemorial.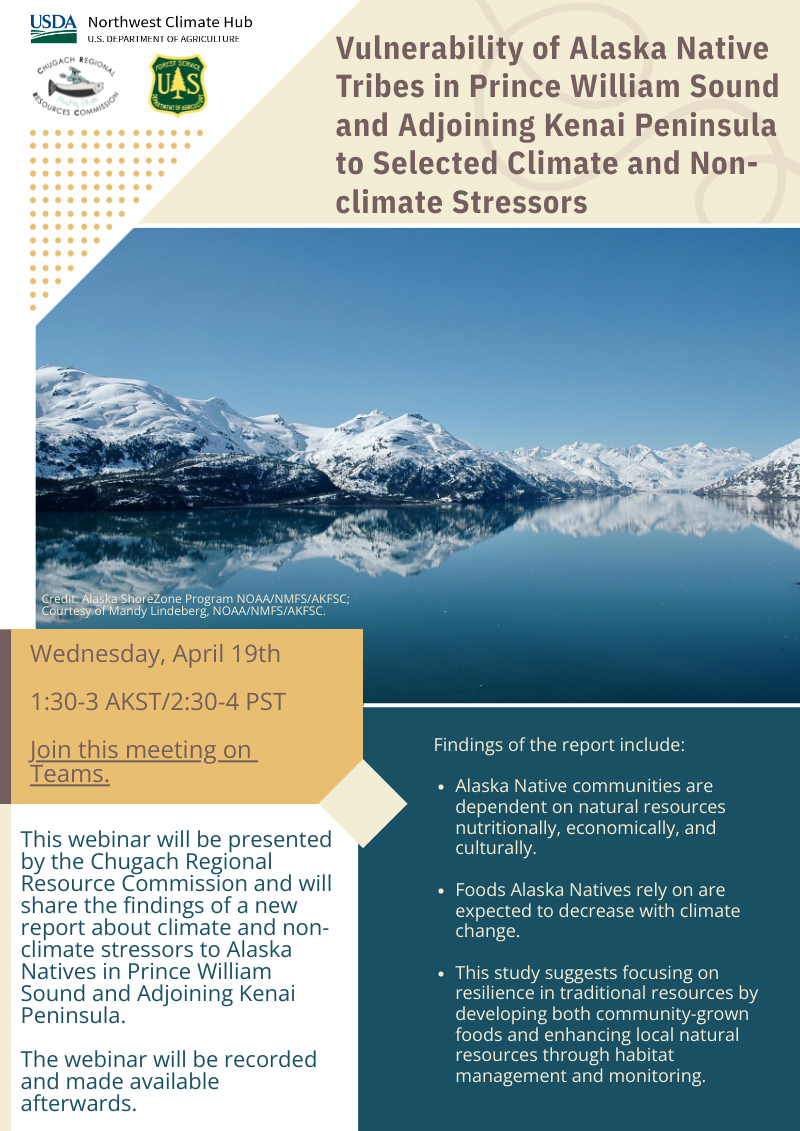 Event Date Start-End
April 19, 2023 / 05:30 PM - April 19, 2023 / 07:00 PM