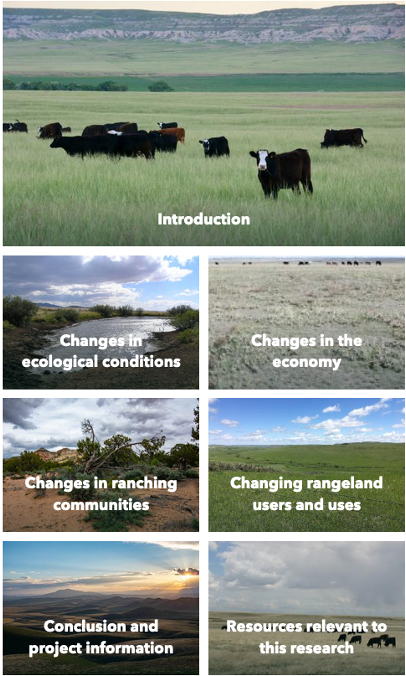 Beginning in 2018 and concluding in 2022, the USDA Northern Plains Climate Hub helped conduct a research and outreach project to explore the concept of "socio-ecological resilience" from the perspective of livestock producers in the American West. A team of researchers from the USDA Agricultural Research Service and 4 partner universities met with ranchers in 7 western U.S. communities to hear about the challenges they are feeling, the changes they see coming in the future, and the adaptation strategies they are using or thinking about. Focus groups were held with 51 livestock producers from 7 communities in the U.S. West, as well as interviews with 12 land managers who work in these same communities. A diverse set of study areas was selected -- including ranching communities in California, Arizona, Nevada, Utah, Colorado, and Nebraska -- to compare how ranchers in different locations perceive resilience.
Participating ranchers and land managers described four types of changes they perceive to be affecting western ranching: (1) changing ecological conditions; (2) changing economic conditions; (3) changing ranching communities; and (4) changing rangeland uses and users. They emphasized that these changes are interconnected and happening simultaneously, but at different scales, resulting in complex effects and outcomes.
To learn more about the project and its insights, explore the interactive Story Map: What does Resilience Mean to Western Ranchers?
Funded by the USDA National Institute of Food and Agriculture (grant number 2018-68002-27923).