Seaweed, a term for marine algae, has been used by Alaskans as a source of food and materials for centuries. Recently, the farming of seaweed has gained attention for its commercial, food security, and climate change mitigation possibilities. Alaska presents an ideal location for the seaweed farming industry, as it has the longest coastline in the United States and more than five hundred species of seaweed. One such species is kelp, a common type of large, brown, seaweed. Some of the largest kelp beds in the world are found in Alaska. Different types of red, green, and black seaweed are also farmed and gathered in Alaska. Seaweed production does not require fertilizer, fresh water, or arable land. Alaska has cold, fertile waters, lively community waterfronts, and a skilled maritime workforce interested in pursuing mariculture (the cultivation of fish and marine life for food). As such, Alaska could be at the cutting edge of the growing seaweed farming industry in the United States.
Seaweed farming is expanding quickly and is expected to continue growing in the coming decades. In Alaska, there has been a marked increase in the number of applications for seaweed farming permits.
How can seaweed help Alaskans mitigate or adapt to a changing climate?
While seaweed mariculture does not yet have the scale to play a global role in climate change mitigation, there may be potential to locally sequester carbon, depending on the farming practices implemented. Seaweed farming may prove effective in climate change mitigation and adaptation due to the number of benefits associated with farming it.
Seaweeds:
Can contribute to food security and Alaska Native tribal sovereignty because seaweeds grow quickly and, in some cases, have a high protein content (some red, green, and brown seaweeds)
Can capture carbon dioxide from the marine environment
Can reduce and prevent ocean acidification and de-oxygenation, which threaten marine environments (some brown, red, and green seaweeds)
Certain types can be used for biofuel production, with the potential to reduce emissions from fossil fuels (brown seaweed - kelp)
May create marine habitat and mitigate coastal pollutants (some red, green, brown, and black seaweeds)
Can lower wave energy and act as buffers against coastal erosion (brown seaweed - kelp)
The many uses of seaweed:
Seaweeds are used in several products, including:
Food products: hot sauce, roasted kelp snacks, pickles

Soaps and lotions

Food colorants

Gelling and thickening agents

Soil amendments

Other bioextracts
Alaska Natives are at the cutting edge of farming seaweed in Alaska. Programs like the Native Conservancy's Native Regenerative Fund provide support to Native farmers for growing kelp in Alaska and assist them in starting their own farms. Prior to farming seaweed, Alaska Natives have harvested and used seaweed for time immemorial. The Haida, Tlingit, Tsimshian, Eyak, and Alutiiq people use seaweed as food, trade items, fibrous material, and food storage. Black seaweed is a particularly important wild-harvested food. Other wild-harvested seaweeds in Alaska include bull kelp, giant kelp, and red ribbon seaweed. Seaweed collection is a significant time of the year for many Alaska Natives, and many culturally important foods and ceremonies depend upon the continued existence of seaweed.
How do Alaskans farm kelp?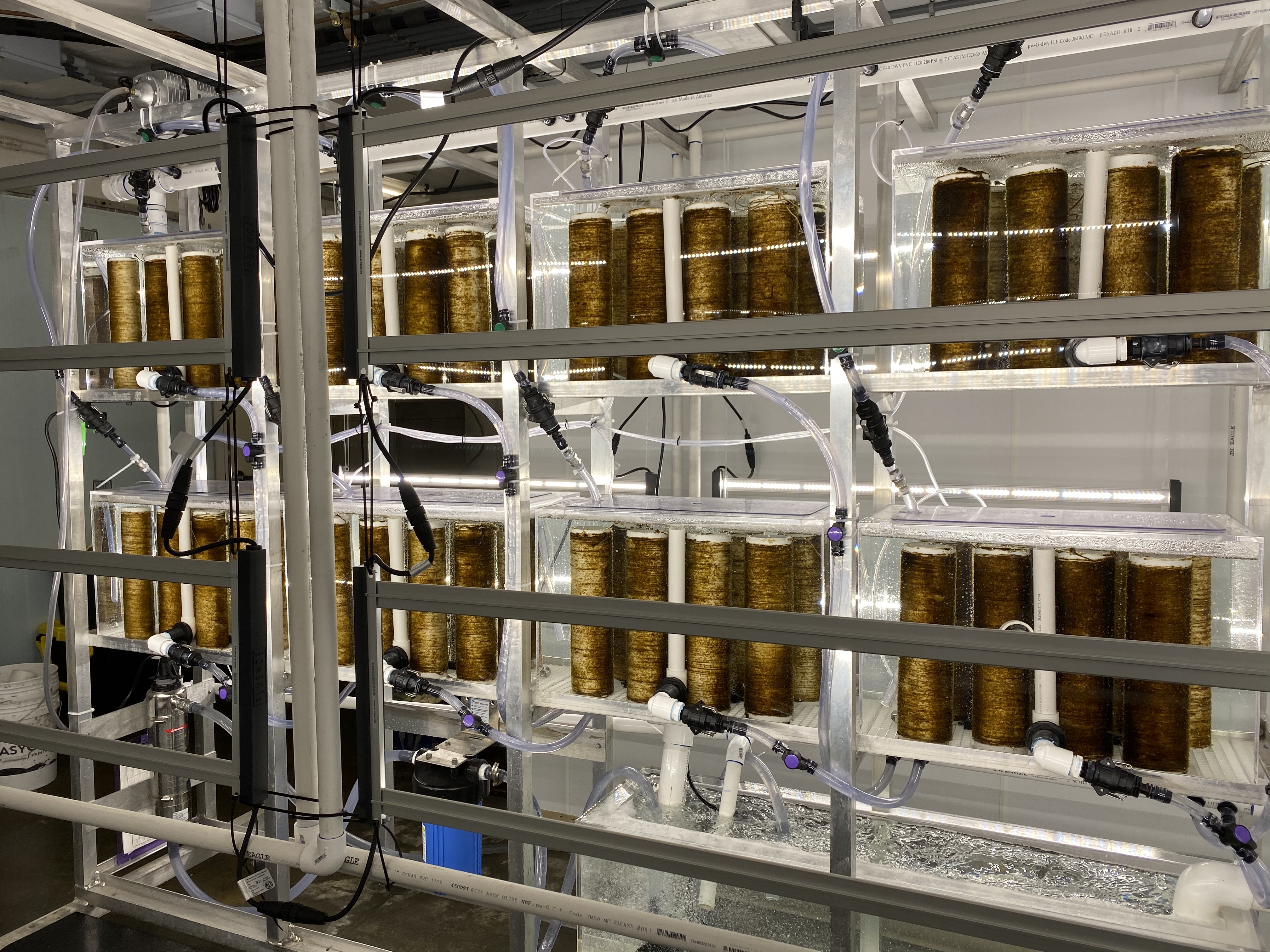 Sugar, ribbon, and bull kelp are the most farmed species of seaweed in Alaska, though interest in species like black seaweed is increasing. To begin a kelp farm, mature kelp with reproductive tissue (also known as sorus) are collected from the wild (within 50 miles of the farm) and transported to a kelp hatchery. At the hatchery, the reproductive tissues are encouraged to release spores. Eventually, these spores grow into kelp seed on spools of nylon twine. Farmers then wrap the seed twine around lines that are placed about 10 ft underwater at the farm site. Seed-out usually occurs during October through November. Some kelp can grow up to 15 ft long by the time of harvest in April through June. Since the growth cycle of Alaskan seaweed is fall to spring, seaweed farming is compatible with seasonal fishery employment and provides an opportunity for year-round employment to seasonal employees.
Kelp farms require regular visitation and observation by farmers. Protected bays and inlets are preferred areas for kelp farmers because of ease of access. However, there are additional site-location factors that may need to be considered to support kelp biology (e.g., increased water flow and high nutrients). Check the site assessment toolkit to improve kelp farm site selection to access site-related information for those interested in starting a kelp farm.